A favoured beauty product of supermodels and celebrities and endorsed by experts

Rosehip oil is readily absorbed into the skin without leaving an oily sheen and imparts a positive glowing radiance which is why it's favoured by those who need took their best and is enjoying a huge increase in popularity
Organic cold pressed Rosehip oil is the perfect natural skin care oil Use it to prevent or as a treatment for early ageing wrinkles, sun damaged skin, scars including acne scars, burns, stretchmarks and pigment spots.
It's a complete moisturizing and skin rejuvenating product
with all the active ingredients presented in their natural package - nothing has been altered - it is completely natural - no preservatives no parabens.
Rosehip oil is remarkably high in essential fatty acids, about 80%, including omega 6 and omega 3 which help to replenish the skins natural lipid barrier super moisturizing the skin and imparting a glowing complexion
Another important component is trans retinoic acid, a vitamin A derivitive, which is responsible for rosehip oil being so effective in removing fine lines and smoothing the skin as well as reducing the appearance of scars, acne scars, stretchmarks, skin pigmentation, rosecea, and eczema.
We find Rosehip oil is also very useful for soothing minor sunburn and helping prevent skin pealing after a day in the sun.
After using organic rosehip oil there is an increase of renewed cells in the epidermis the cells produce more collagen & elastin, making your skin firmer more supple and smoother looking.
The natural process of removing old skin and cleaning hair follicles is enhanced giving a cleaner youthful appearance.
Click rosehip oil to buy
or for more information on Rosabay organic cold pressed rosehip oil.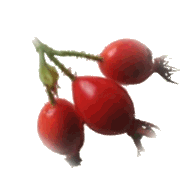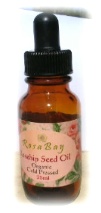 rosehip oil
[home]
[contact us]
[testimonials]
[rosehip oil]
[rosehip oil research]


Worldwide shipping $4.00 or free shipping on orders over $49.00
Pay with Paypal
Click the button To order
Organic Cold Pressed Rosehip Oil
25ml dropper bottle $17.00

Special - Save by multiple buying --
Save $5.00 buy two 25ml bottles of organic cold pressed rosehip oil for $29.00


Save $12.00 buy Three 25ml bottles of rosehip oil for $39.00

Save even more. Buy four 25ml bottles of rosehip oil for $49.00 saving $19.00 and get free shipping

Click the buy button once only for each product.
If you would like more than one unit you can change the quantity in the shopping cart and click the re-calculate button